On Monday the 6th of March, the Religion and Society (R&S) YR 12 Students participated in the inaugural "Quote Off Championships".
The event involved Mr Lane's R&S class VS Mrs Berens R&S class.
The rules for the "Quote Off" are simple. Each student had to answer and ask one question, based on the key knowledge and understanding from AOS 1. If the student answers correctly there class is awarded one point.
It was a hotly fought contest and the final result was 10 - 8, with Mrs Berens class taking a 1-0 lead in the best of three series. Pictured are the victors of this first round.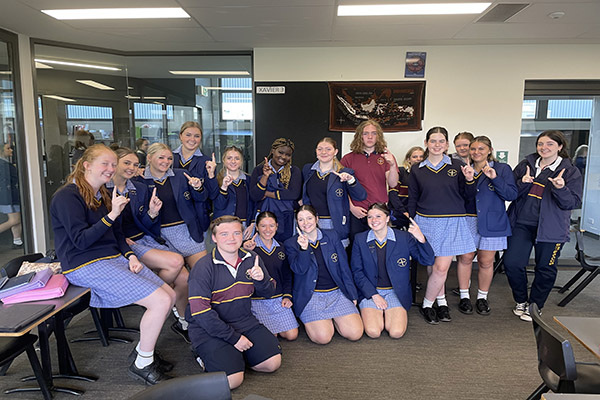 It was impressive that the students were able to explain complex theological beliefs under pressure, however, Mr Lane's class will be doing a lot of soul-searching and reflection, to ensure they can level the series in term 2. The winning class receives a pizza lunch, sponsored by the RE Faculty.
Although not everyone could win, a key skill needed in the Religion and Society exam and SACs is to be able to recall relevant quotes and apply them correctly. Through practicing this skill in a competitive and fun environment, students are developing their ability to actively recall key knowledge on cue, which will hopefully assist them in their learning and motivate them in their studies.
Congratulations to all of the students and staff involved in this competition, we look forward to seeing how things play out in the next round.
#DamascusCollege #DamascusPride #BeMyBest #ImSupported