On Sunday 11th September, our school captain Lewis Clark performed a recital of his own in the 'Piano for Pleasure' series.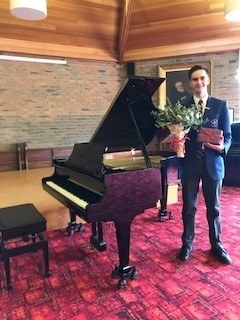 These are concerts that feature student soloists of Bronislaw Sonzanski as well as other musicians and ensembles across the year. Lewis presented his VCE recital program in preparation for his exam in approximately a months' time.
This was a 25 minute program of pieces that included works by Bach, Haydn, Grieg and others. Lewis also performed some contemporary jazz standards and works from Australian composers.
Lewis takes every opportunity that he can to build on his performance technique and this concert was an excellent demonstration of his dedication and commitment to music. The audience agreed it was a most enjoyable way to spend a Sunday afternoon.
We wish Lewis and all of our music and drama students all the best for their upcoming performance exams.